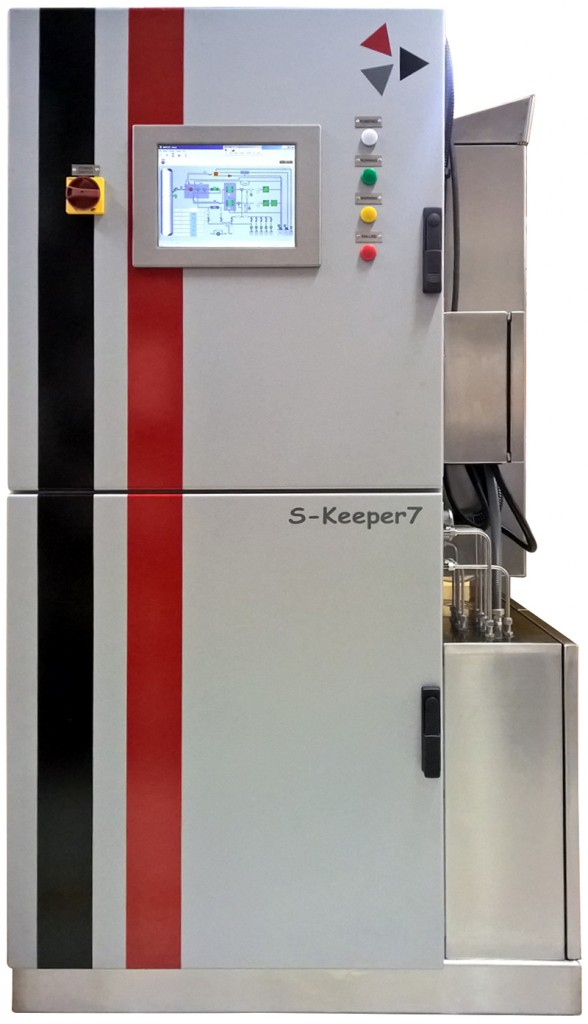 What is S-Keeper 7™?
S-Keeper 7™ is a Continuous Emissions Monitoring System CEMS Type Approved for marine application fully engineered, integrated and validated in accordance with the applicable Directives. S-Keeper 7™ is made in Italy by Tecnova HT.
S-Keeper 7™ has been found to comply with the applicable requirements for SO2 and CO2 analyzer specified in Chapter 6 of Resolution MEPC.259(68) "2015 Guidelines for exhaust gas cleaning systems"  therefore it is " Scrubber Ready ". Now.
S-Keeper 7™ is  obviously  already in compliance with:
MARPOL Annex VI Reg. 13 & 14
MEPC Circ. 471, 177(58), 259(68)
IEC 60092-504
Regulation (EU) 2015/757
S-Keeper 7™ is fully tailored to the Shipowner's requirements with particular focus on CaPex & OpEx balance.
S-Keeper 7™ could be also integrated with a modern PEM Propulsion Efficiency Monitor, thus encompassing metered Fuel Consumption, Fuel Oil Viscosity, Thrust and Torque measuring Systems.
Thanks to the specific engineering of this modular system, the S-Keeper 7™ installation is able to withstand the toughest marine environment.
On-board maintenance is easy even for an unskilled operator, while the SPMP Spare Parts Management Program ensures the traceability of every single component and its availability on the ship's course.
S-Keeper 7™ Main features
In accordance with MARPOL Annex VI Reg.13 & MEPC 177(58), 259(68)
calculation of NOx g/kWh vs Tier I, Tier II, Tier III limits
monthly NOx compliance test report
In accordance with MARPOL Annex VI Reg.14 & MEPC 177(58), 259(68)
calculation SO2/CO2 ratio
calculation of Fuel Oil Sulphur content (% wt/wt) vs Reg.14 limits
In accordance with MEPC 177(58),  & MEPC 259(68)
HC total Hydrocarbons content (ppm or g/kWh) is measured
In accordance with Regulation (EU) 2015/757  (aka MRV plan)
CO2 emissions for each ship on a per-voyage and an annual basis are monitored, reported & verificated
In accordance with NOx Technical Code, Appendix 3, par. 1.1
Extraction Method is implemented

Reports in accordance with ISO 14001 of totalized mass NOx / SOx / CO2 emissions (kg/tonne)
Reports in accordance with MEPC Circ. 471 of CO2 Emission Index (g CO2 / tonne n.m.)
Combustion Efficiency monitoring by CO2/(CO2+CO) ratio
Types EASY-N, LITE-N, LITE  are specifically designed for LNG Powered Ships thanks to "CH4 slipstream" management

O2 (%) & Particulate (mg/m3 or g/kWh) analysis as additional options
Ship Multiple Stacks management available
S-Keeper 7™ Selection Table

Few Examples:
For Scrubber cleaned gas/EGCS : EASY-S
Downstream SCR Selective Catalytic Reduction : EASY-N
SCR & Scrubber equipment: EASY
LNG Powered Ship: LITE…
S-Keeper 7™ Technical Specifications
Analyzed components measuring method
NOx, SO2, CH4, CO, CO2: NDIR (NO with NO2 to NO converter)
analytical options avalaible:
HC: H-FID heated flame ionization detector
O2: Zirconium Oxide
Particulate: Inductive Electrification
Multiple Stack Management
Up to 6 funnels could be analyzed with 1 single S-Keeper 7™
Auxiliary inputs
Engine speed, Torque, Thrust, Fuel flow, Ambient temperature, Pressure & Humidity sensors as indicated in "NOX Technical Code 2008", EGCS Exhaust Gas Cleaning System ( Scrubber ) operative parameters as required in "MEPC.259(68)-2015 Guidelines for Exhaust Gas Cleaning Systems", Ship GPS Global Positioning System data.
Software
Windows®-based Emissions Reporting software
Easy self-explanatory graphical interface with Process Flow Diagram and real-time parameters
Multilevel Password Protection and Data Encryption to ensure safest tamperproof procedure I/O
Connections
1 x Ethernet RJ45, 1 x RS-485, 1 x SPDT contact

S-Keeper 7™ Scope of Supply
Qty#1 Integrated Cabinet
Qty#1 Sample probe & tube (up to 6 for MSM)
Qty#1 Sample line (up to 6 for MSM)
Qty#1 Bottles set (according to analyzed components)

S-Keeper 7™ Analytical Options avalaible upon request
Qty#1 Oxygen Analyser
Qty#1 Hydrocarbons Analyser
Qty#1 Particulate Analyzer
Qty#1 Multiple Sample Controller for MSM
Qty#1 Redundant Analyser PLUS option
S-Keeper 7™ Sample conditioning system
In accordance with "NOX Technical Code 2008" with system condition monitoring and maintenance indicators.
Sample probe technical specifications
Operative Conditions: max. 200 kPa abs, 180°C
Filter element in Bonded Silicon Carbide (CSi), wetted parts in SS316Ti, CSi, Viton®
Flanged Process Connection: DN 65 PN 6 DIN 2573
Housing: SS304, IP43 rating
Sample line technical specifications
Operative Temperature 190°C/Max 210°C/Peak 250°C
Maximum Operating Pressure 2.8 barg@200°C
Wetted parts PTFE material, External insulation Fiberglass
External diameter 43 mm, End Caps diameters 48 mm
Minimum Allowable Bending Radius 200 mm

S-Keeper 7™ Ambient Conditions Limits
Main Integrated Cabinet: Ambient Temperature +5 / +55°C; 95% RH Max
Sample Probe: Ambient Temperature +5 / +55°C; 95% RH Max
Particulate Analyzer (option): Ambient Temperature +5 / +55°C; 95% RH Max

S-Keeper 7™ Utilities Consumption
Power supply: 230 VAC @50/60 Hz
Maximum power consumption (Full model): 4.8 KVA Max
Calibration gas bottle / each parameter: 1 bottle 110 L @ 20°C / 1 operative year approx
Demi water (only Lite-s, Lite, Full models). 1 canister of 5 Liters / 3 operative months approx.

S-Keeper 7™ Dimensions & Weight
Main integrated cabinet: 1050 x 1990 x 800 mm (WxHxD), 550 kg
Sample probe: Housing 251 x 297 x 168 mm (WxHxD), 9 kg, Length TBD
Sample line: Length TBD , 0.9 Kg/m
Calibration bottle: 360 (H) x 90 mm (DN), 1.7 L, 1.1 kg each
Oxygen analyzer (optional): Integrated in main cabinet
Particulate analyzer (optional): Flanged housing 342 (L) x 74 mm (DN), 1.7 kg, insertion length TBD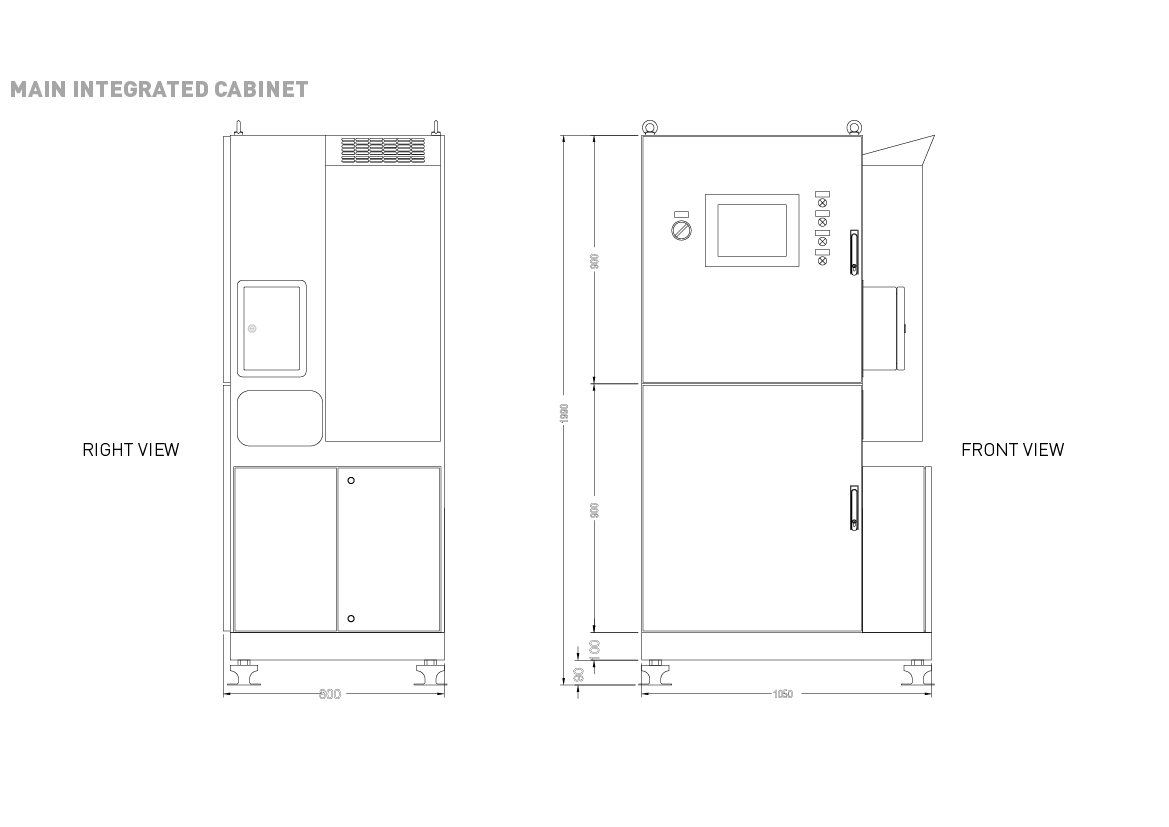 DOWNLOAD DATA SHEET
DOWNLOAD DATA SHEET